True love is something that grows over time. It's not something you know directly like an obsession, it takes a while to develop. I first heard music of the British band The 1975 in the summer of 2016 which made me slowly fall in love with them.  This love grew even bigger when I saw them live in AFAS Amsterdam in July 2017. Now, a year after that, I still listen daily to their music, so what makes them special for me?
1. Their personal, indivual representation of feelings in their lycris
Instead of covering cliche love feelings like most songs do nowadays, The 1975 take the thoughts of the indivual person. This results mostly in contrasting experiences of events. This really speakes to me because it makes the music vulnerable and gives your own thoughts and feelings a place to be accepted.
A song that shows this is Haunt // Bed.  Matty is helping a friend getting through a though time by letting her use him for sex. Which looks casual at first, but the hook 'I'm not scared' is repeated six times, what shows that he is actually scared that she doesn't love him and only uses him for the sex.
While mentioning this song, I must also mention the my favourite lycris of them.
'Spin car round push your head down down down, and smash into the ground with you.

There's a piece of glass found and a terrible sound'. 
Using a car crash as a metaphore for the toxic relationship is an example of how this band knows how to use metaphores in a good way.
2. Their instrumental songs
Besides the more famous vocalized songs of this band, The 1975 makes good instrumental songs. Their representation of feelings without using words is something I discovered this year, but damn what a pleasure to listen to.  My personal favourite instrumental song is How to Draw,  which expresses the fear of not be able to be creative anymore and knowing that the writer never learned 'How to Draw'.
A better song to explain it by is 'Please be Naked'.
This first entirely instrumental track on the second album is initially soft and ethereal. The song builds with the gradual addition of sounds and instruments before one part of it abruptly stoping and finishing iwht a singe bar of a repeating piano riffs. In this way is the intimacy or sex expresses, which is interrupted by the main person having a panic attack. The repeating piano riff and the end is something I interprete as having this situation repeated every time the main person tries to be intimacy with another.
3. Deliverance of their music toward the crowd
As you probably have seen in the video of Please be Naked,  The 1975 has a charismatic live performance. The way this band deliver their music to a crowd is something that made me flabbergasted at their Amsterdam gig on the 19th of July 2017. Besides the fact that the crowd gave me a comfortable and relaxed feeling, the whole performance of the band, leaded by leadsinger Matty, had me hooked. I find it hard to explain what exactly gave me this feeling.
Moreover, this output is also retrievable in their music videos like my favourite Somebody Else. 
The 8.30 minutes video starts of with three minutes references to earlier music and videos and after that you'll see Matty struggeling with getting over a break-up and exploring different (bad) ways to do so. At the end of the clip there's a plottwist; all the people he is judged by during his struggle, turn out to be himself.
4. Storytelling
The 1975 tells a whole story.  As in their clip of Somebody Else there's always a story with a moral in everthing they do. The albums tracklist are build up stories, what are suprisely, lovestories.  Within there are songs about their youth, mother and friends. Yet as you also can see in their videos, one red line keeps the songs connected.

A song that shows a proper instrumental vs vocal storyline is one of their first songs, Sex.  The beginning of this hit is inspired by 'All My Friends' – LCD Soundsystem; 'This is how it starts'.  And let the singer tell us a story about him and his friend, who has a boyfriend,  but he really wants to have sex with her. Mentioning observations in her behavior that makes him crave for her even more, he keep telling him self that 'she has a boyfriend anyway' and describes a 'fill his shoes' metaphore.
While the instrumental guitar and drum part keeps building up to a climax, the girl says a clear no just before the bridge. Paradoxically, the climax arrives in the bridge, what brings up the question whether they have sex or not. The lycris after this is making excuses for being seduced, so I think we can guess what happened.
https://genius.com/The-1975-sex-lyrics
5. Their position towards pop culture 
Everythings feels totally wrong, I mean, we're not pop, we're not a pop band. And it feels like a really POP video, the whole scenario is not what we're about, it needs to be black and white for a start'
Is the beginning of the in 2013 released video for their single Girls. Ironically, the video is completely in color and 'pop' – like. This shows the Friendemy relationship of The 1975 with the modern popculture.  Nowadays the band can be seen as a big part of the pop music industry, but the band keeps playing with this imago. Which is also kinda punky, to swim within and against the flow.
At the BRIT Awards 2017, this band protested again to their imago, by interrupting their performance of The Sound with hilarious texts.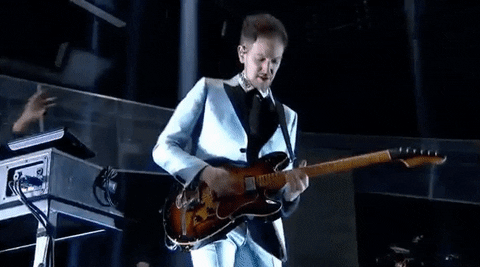 New music!
In the last couple of months, The 1975 released 3 new songs for their upcoming EP A BRIEF INQUIRY INTO ONLINE RELATIONSHIPS (30 november 2018) and their upcoming album (2019). The songs, Love it if We Made It, TOOTIMETOOTIMETOOTIME and Sincerty is Scary are what we used of by this band but also a bit new influence by modern pop. I'm curious what this new era of The 1975 is going to bring!
I can write so much more about this band ( I haven't even mentioned my all time favourite song

Robbers

?!), but I no longer gonna bother you with it. I hope I convinced you that The 1975 are a special band that will be rememered for a long time!
Talk to you soon, 
Love Mari Celisa